Steven Holl Building Opens at Pratt
A replacement for a structure that burned down in 1996, the new building will connect two wings of the institute's architecture school
By Diana Lind
Steven Holl Architects' new Higgins Hall Center Section opened at Brooklyn's Pratt Insititute in September. Sandwiched between two landmarked brick buildings, the $10.5 million insertion adds a modern touch to the historic Clinton Hill district. The insertion connects the two wings of the hall, which house Pratt's architecture school.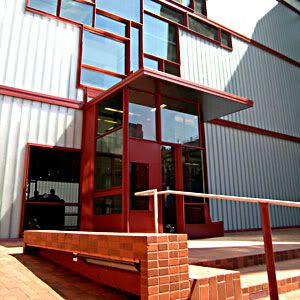 Photo: Tyler Campbell Wriston/Courtesy of Pratt Institute

Holl's firm was hired for the job soon after a fire in 1996 burned down a building in the same location. The new 22,500-square-foot section is supported by six precast-concrete beams and enveloped in interlocking U-shaped, structural channel-glass backed with translucent white insulation.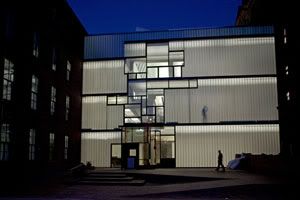 Photo: Richard Caden/Courtesy of Pratt Institute

It joins two buildings whose floor heights are mismatched by an inch on one story and by almost five feet on another. Clear glass windows in the new section intentionally expose this so-called "dissonant zone," showing the ramps which connect the misaligned floor plates.

文章出處:businessweek